FFT Wastewater Products
Formerly FogFree Technologies
FFT Wastewater Products
---
FFC-100
Single strength degreasing product. For use with our automatic foaming machines for cleaning wet wells of Lift Stations.
Cleaning fats oils and grease off of filters at the water and waste water plants.
Will not damage filter media.
Cleans up after grease spills from grease hauling trucks at the waste water treatment plants.
Pleasant orange scent can be added for customers benefit.
Can be used in commercial pressure sprayers and Vac Trucks to enhance cleaning of force mains.
---
Orange Flush
FFT ORANGE FLUSH is a double strength degreasing product for municipal lift stations and collection systems.
Hand or pump sprayer application
Used mainly as a maintenance dose
Will not melt hard grease before your eyes
For best results clean wet well then start maintenance dose once a week before grease has time to harden up.
For use on all components of the lift stations. Will not damage float balls, pump risers, pump rails, or wet well walls.
Pleasant orange scent added for odor purposes.
Can be used to clean clogged force mains.
Cleans clogged air relief valves if the product can get in contact with the ARV.
Cleans down the line until the product is used up.
---
Odor Mite
A customized technology for odor control that works by fogging a headspace or wet well that contain concentrations of Hydrogen sulfide.

Odor mite is non hazardous and won't damage any part of the wet well including the risers, float balls, pump rails and electrical wiring.

When Odor Mite comes in contact with hydrogen sulfide, it forms a dithiomine solution. This solution is a mild corrosion inhibitor.

All components of the wet well are protected from corrosion, because as the fog is introduced into the headspace, it forms a Odor Mite moisture barrier between the equipment and the environment that the hydrogen sulfide cannot penetrate.

Odor Mite reaction is instantaneous and starts to work as soon as it comes in contact with the hydrogen sulfide molecule.

The Odor Mite fogging system is quick and easy to set up and generally can be in operation within an hour.
Ideal for Lift stations with restricted area, foot print on an Odor Mite unit is about 6' X 6'.
Typical results are as follows: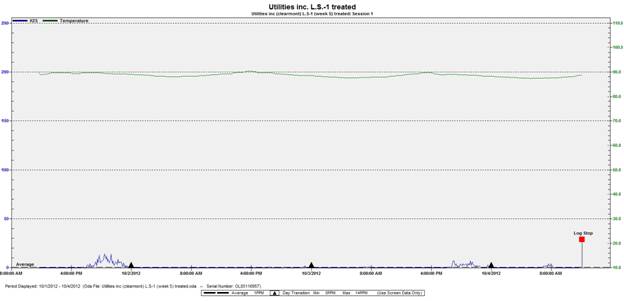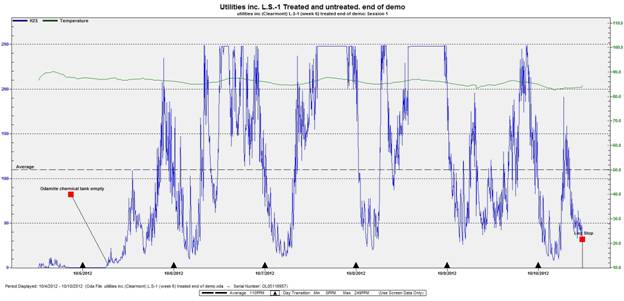 ---
FFC- Vac Truck Mix
Assists Vactor Trucks in cleaning grease in collection system force and gravity mains.
As the truck uses its cleaning nozzle to break up clogs due to grease buildup, the mix keeps the suspended grease from reforming downstream at the next lift station.
Once the grease has been treated, the municipality is done dealing with it. The grease now is broken down to a micelle where the naturally occurring bacteria in the pipes can metabolize material.
Economical – 1 gallon treats 1000 gallons of wash water.
---
FFT- Safe Descaler
Takes care of scale in both municipal water and wastewater applications.
Chloromine water plants generally have a scaling problem in the system or in the air scrubbing process.
What they are using now are strong acids to clean problem areas. This process requires protective clothing and is hazardous to the workers.
Acid burns to employees are very common.
FFT descaler eliminates scale from transition manholes, air scrubbing effluent pipes and aids in freeing stuck valves in the process.
FFT Descaler requires no specialized PPE equipment. Gloves and Protective eye ware is sufficient.
The reaction of the descaler to the scale is cool to the touch.
FFT descaler can be hand applied or dosed with at a continuous dose rate determined by the demand of scale in the pipes.
FFT Wastewater

Products - Reference Grid
| | | | |
| --- | --- | --- | --- |
| Product Name | Packaging Size | MSDS | Datasheet |
| FFT Solution® Products FAQ | | | |
| Trifold Brochure on FFT Wastewater Products | | | |
| | | | |
| FFC-100 | 4 X 1 Gallon | | |
| FFC-100 | 5 Gallon | | |
| FFC-100 | 55 Gallon | | |
| FFC-100 | 275 Gallon | | |
| | | | |
| FFT Vac Truck Mix | 4 X 1 Gallon | | |
| | | | |
| FFT Orange Flush Cleaner | 4 X 1 Gallon | | |
| FFT Orange Flush Cleaner | 5 Gallon | | |
| FFT Orange Flush Cleaner | 55 Gallon | | |
| FFT Orange Flush Cleaner | 275 Gallon | | |
| | | | |
| FFT Orange Flush Cleaner - Lift Station | 4 X 1 Gallon | | |
| FFT Orange Flush Cleaner - Lift Station | 5 Gallon | | |
| FFT Orange Flush Cleaner - Lift Station | 55 Gallon | | |
| FFT Orange Flush Cleaner - Lift Station | 275 Gallon | | |
| | | | |
| FFT Orange Fragrance | 5 Gallon | | |
| FFT Orange Fragrance Blend | 5 Gallon | | |
| | | | |
| FFT Safe D-Scaler | 4 X 1 Gallon | | |
| FFT Safe D-Scaler | 5 Gallon | | |
| FFT Safe D-Scaler | 55 Gallon | | |
| | | | |
| FFT Odor-Mite | 4 X 1 Gallon | | |
| FFT Odor-Mite | 5 Gallon | | |
| FFT Odor-Mite | 55 Gallon | | |
---